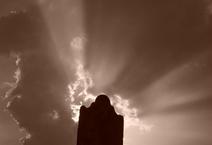 Please introduce yourself to the folks.
What was Halloween like as a kid for you?
I remember Halloween being a big event for us and the neighborhood. All the kids would meet up with their costumes, and everyone would kind of trick-or-treat at the same time. People would really get into it, with the big costumes, big candy, and yes even haunted houses. In fact, it sort of became a tradition to make haunted houses as elaborate as possible.
Any special memories of past Halloweens?
When I was very young, a huge part of my family went all out making a haunted house. We had the garage set up, and even had people coming through the front door, and hid under a table that had a huge bowl with dry ice (in retrospect a terrible idea). But a kid from the neighborhood came up the driveway, and we had so much set up that he was intimidated, and my uncle scared him so bad that he just screamed and started running away. I mean this was like Forest Gump, he just kept running down the street. For the longest time, we would joke that the kid was probably still running.
What about favorite costumes?
I would say that my favorite costume was when I dressed up as a creepy scientist/guy that tortures people. The whole ensemble made absolutely no sense, but it was very scary. That or I had a mask of a creepy clown that I would pull out once in awhile called "cuddles" and it was terrifying. (Not my image, this was found on Google)
How do you celebrate today?
I celebrate every year in Salem, where I get to be a guide and go people watching! Sometimes my wife and I dress up for different events here as well.
Any annual rituals to get in the holiday spirit?
Every year we try to watch as many old horror movies as possible. It just isn't Halloween without watching Halloween, or Creature from the Black Lagoon (my personal favorite). Every year I have to listen to Misfits "Halloween" or Iron Maiden "Fear of the Dark". Candy is an absolute must! Also, nice fall beers and apple cider.
Why do you think we still love Halloween as adults?
There's a sense of nostalgia, that child like innocence and being able to dress up like some of your favorite characters from either horror or other genres. There's also a bit of the macabre with it too, the celebration of the things that go bump in the night as well as death. You know, the scary things!
Inside the Spookster's Studio
The worst thing to get while trick or treating was
Good and Plenty. That's not candy, it's cough medicine with colors.
My favorite thing to get was
my bag filled with candy. Nerds, Hershey bars, laughy taffy, Reese's cups.
My favorite monster cereal is
Count Chocula, forever.
Where can people find you online?
Thanks for stopping by, Scott!
That will wrap up out interviews for this year.
Be sure to visit all the Halloween houses by clicking the link below!