This past weekend was the Salem's So Sweet Chocolate & Ice Festival. It's an annual event in downtown Salem to draw people out and promote local businesses. There are shop discounts, ice sculptures around town, and other small events. If you're really interested, you can
get the brochure here.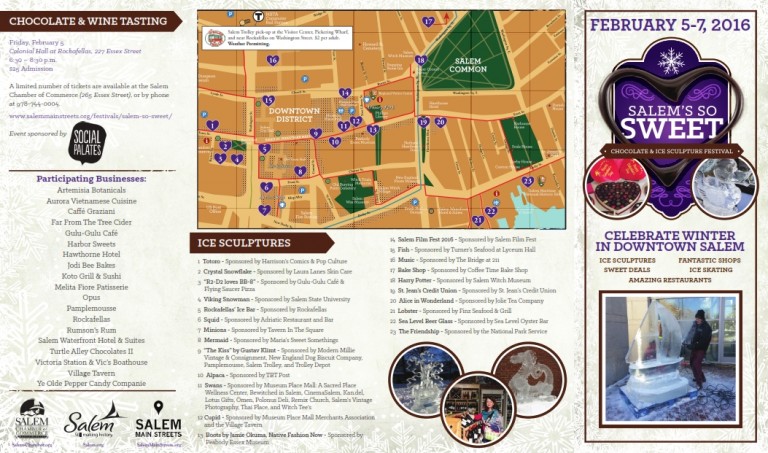 This year there were 23 sculptures. We had just gotten about 6" of snow on Friday so that helped set a more wintry mood for viewing ice art. It also made for some slushy and slippery walking. It was too cold to go and visit all 23 sculptures but I did manage to see quite a few.

Pro tip if you ever visit an ice sculpture festival: get there early. Not because they might melt, (well, ok, they could) but because the longer the sculptures are out there, they lose their transparency. Not that they still aren't impressive, it's just that I saw pictures of them from earlier in the day and they look really nice when clear. That, and some of them have images inside that you can't really see when they get cloudy.
I have no idea what is supposed to be inside this one, but it still has some great detail.
The sculptures are sponsored by local businesses and are usually related to the business in some way. This one of anime character Totoro is in front of Harrison's Comics & Collectibles, one of the best comic shops in the area.
This mermaid was in front of Maria's Sweet Somethings, which if you couldn't guess, is a candy/ice cream shop. We stopped in to warm up and found they had a chocolate fountain setup with assorted treats to sample.
I'm not sure if Mr. Potter here was a victim of melting or an unwatched child but he did have a wand at one point.
This is the outside of one of the main sponsors, Rockafella's restaurant. They had an actual ice bar outside with a four foot high wall. They had a couple of portable cast iron fire pits to help keep warm.
PEM is the Peabody Essex Museum, which I should really visit someday! I'm always curious how they get things inside the sculptures like this.
The final photo I'm showing off is of R2-D2 and BB-8! This one was located outside of Flying Saucer Pizza. They have all sorts of sci-fi posters and images on the wall.
There are a few more pics over on
my Flickr page
if you're interested.