Before I dive into today's post, I have to annouce the winners of the Santa Strikes contest...

Creepy Glowbugg and Amber Terry!

Congrats you two!
Mischievous elves will be contacting you.

And now, on with the show...

I've been saying for years that it would be a wonderful thing if Krampus were to catch on in the US like he has in other parts of the world. Could this year be where it begins?
I mean sure, if you're reading this blog post as part of the 13 Days of Creepmas, you probably know who Krampus is. But your average schmoe on the street has no clue. If you're saying to yourself "Who or what is Krampus?" you can get the low down at
Krampus.com
.
Fellow creature fanatic Monsterfink released a DIY digital download Krampus for this year.
For just $4, you can bring the joy of Krampus into your home!
Snag him here!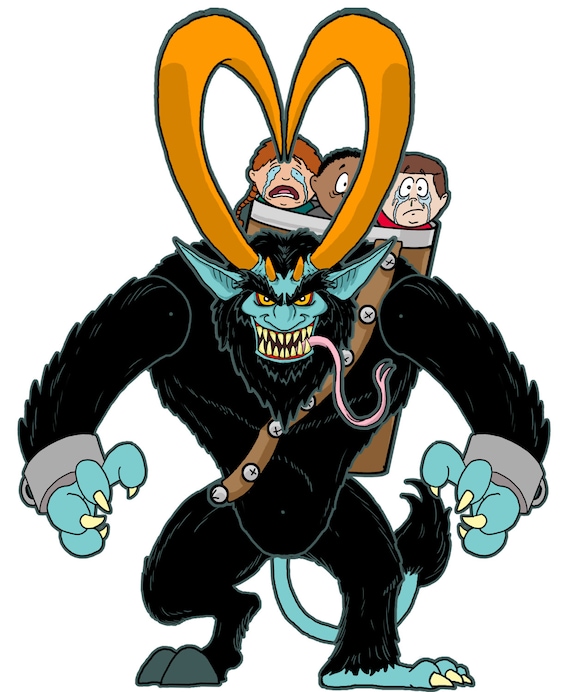 Warpo has a
Kickstarter
wrapping up soon that combines the holiday icon with favorite 80s toy My Pet Monster. Although I can't bring myself to drop the cash required to get one of these snuggly demons, I am fully behind what they're doing.
They even have some amazing Krampus add-on items that I'd love to get. Hopefully they'll make them available to the public after the campaign ends.
But probably the biggest contribution to Krampus awareness this year is the Krampus movie! Now I'd be excited about this no matter what but the fact that Michael Dougherty, the man who gave us Trick R Treat, is putting this out makes me beyond thrilled!
And, did you know there is a companion comic book?
From Amazon:
"Ancient folklore warns of a mythical counterpart to Santa Claus, who punishes naughty children every Christmas… his name is KRAMPUS. Michael Dougherty presents the official graphic novel based on his festive horror comedy, which expands the mythology of this iconic terror with an anthology of three deliciously twisted morality tales that will leave you praying you are not on the naughty list."
You can
pick this up from Amazon
to make your weekend Krampus-riffic!
Also swing by the
Cult of the Great Pumpkin
for info on more movie Krampus goodness, including the soundtrack and official shirts.